When inviting respondents via email, you can quickly import them by creating a CSV file with their background information. Your CSV file has to contain the respondents' email addresses. Any other background variable depends on your survey needs.
For example, if you have a multilingual survey and you want to make the email invitations personal, then it's a good idea to add the following variables: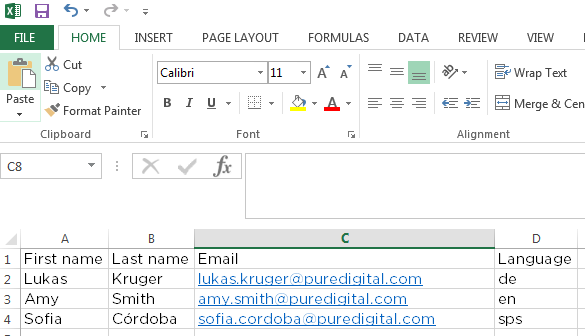 If you've added the first and last name variables to your email invitation, these will be replaced with the first and last name of the respondent. For this example, the language variable will ensure that your respondents receive the survey in the correct language.
IMPORTANT: The variables email, first name, and last name have to be in your CSV file. The format for date variables is: MM-DD-YYYY
How do I create a CSV file?
Open Excel
Insert the background variable names in the top row and the corresponding data underneath. The email variable has to be there.
When saving the document, save it as CSV (Comma delimited).
Now your file is ready to be uploaded or copy/pasted.
How do I import respondent information?
Go to your survey, click  and select collect.
Click  and select email.
Edit the sender information, the subject of the email, and the email invitation text. The email invitation text has to have the survey_link merge field.
Pro tip: Use merge fields to personalize your email invitation.
When you're satisfied with the email click next.
Choose to upload* your CSV file.
Now you have to map your fields by matching the CSV field with a survey variable, i.e. matching email with email, first name with first name, etc.
If you have added variables to your CSV that have not been added to your survey, you have to choose new: text variable.
If there are variables you don't want to include, simply click skip.
Once you're done mapping, click next.
Check that your data is correct and click next.
Finally, click send now to send your email invitations.
* This feature is only available in the PRO and PRO+ plans. Check out our plans.