About Individual Responses
Once responses start coming in, you can view them from the responses page in your survey. Responses can have different statuses:
Completed means they have answered the entire survey.
Incomplete means they have partially answered the survey.
Not answered means they have not answered. This only applies to surveys shared via email, organization, and Digital Post. Sharing via survey link, social media, QR code, and custom link only creates the respondent once they start answering, therefore, those who have not answered are not registered.
Refuse means they refused to participate in the survey. This means that they clicked on the refuse link sent to them in the survey invitation. Respondents that refuse to participate won't get future reminders for that particular survey.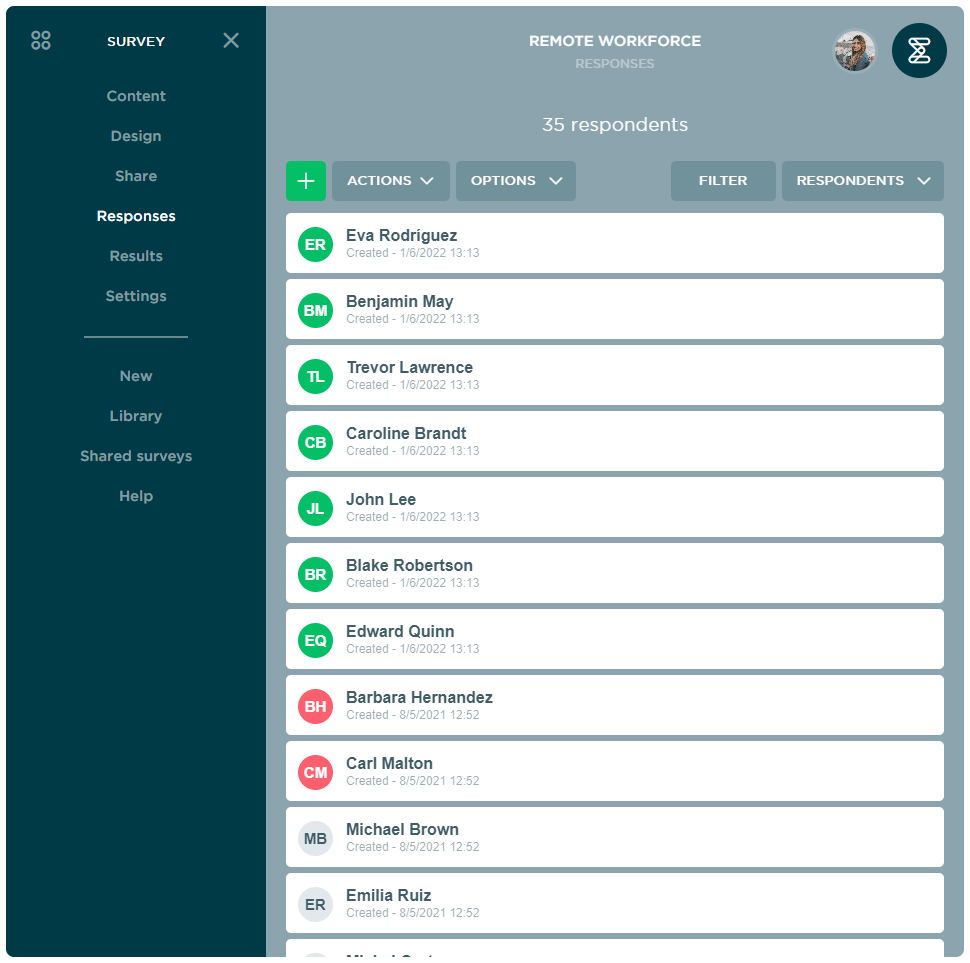 Enalyzer uses colors to illustrate the response status in the responses list. Green is for completed responses, dark grey for incomplete, light grey for not answered, and red for refused.
View Individual Responses
Individual responses show the metadata of the respondent, as well as their background information and all their answers. To view the individual survey responses, all you have to do is:
Go to your survey and select responses on the side menu. If the menu is closed, click on the menu icon () to open it first.
To view the individual response, all you have to do is click on it.
The individual response contains the following information:

First and last name of the respondent: This could have been provided by the respondent via a form question type or upon uploading the respondent information. If the respondent's name is stated as "Unkown" it's because the first and last name system variables have not been populated.
Response status: The response status can be identified by the color, as well as written under status.
Respondent log: The respondent log shows the date and time of the survey invitation and reminders, including the method used to send these messages. The log also records processed triggers for Zapier integrations, as well as the date and time the respondent started and completed the survey.
Background information: This section displays the respondent's background information which is your survey's background variables.
Answers: The final section displays the respondent's answers to your survey.

Anonymous surveys will not display the response log or answers. To view individual responses, download your response data file to Excel, CSV, or SPSS.