When inviting respondents via email or SFTP server, you can quickly import them by creating a CSV file with their background information. Your CSV file has to contain the respondents' email addresses. Any other background variable depends on your survey needs.
For example, if you have a multilingual survey and you want to make the email invitations personal, then it's a good idea to add the following variables: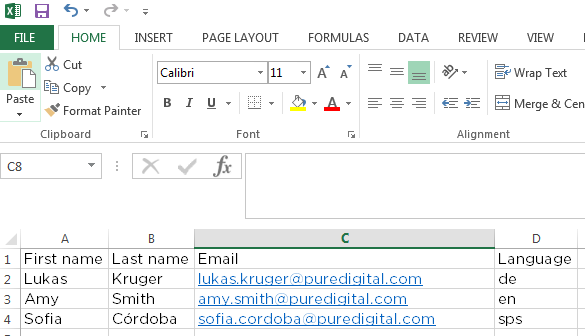 If you've added the first and last name variables to your email invitation, these will be replaced with the first and last name of the respondent. For this example, the language variable will ensure that your respondents receive the survey in the correct language.
IMPORTANT: The variables email, first name, and last name have to be in your CSV file. The format for date variables is: MM-DD-YYYY. The CSV file must be encoded in UTF-8.
How do I create a CSV file?
Open Excel
Insert the background variable names in the top row and the corresponding data underneath. The email variable has to be there.
When saving the document, save it as CSV UTF-8 (comma delimited)
Now your file is ready to be uploaded or copy/pasted.
→ Learn how to invite respondents via email
→ Learn how to import your CSV to create unique links without sending emails
→ Learn how to connect your CSV file in your SFTP server to your Enalyzer survey